5 out of 5, reviewed on Apr 03, 2016

"RIGHT" from the start!"


5 out of 5, reviewed on Mar 18, 2016

"Best Mover Ever"


5 out of 5, reviewed on Feb 05, 2016

"Good, reliable removal company"


5 out of 5, reviewed on Jan 20, 2016

"Prompt, professional and friendly"

Read the full reviews
Brisbane Removalists
Local Furniture Removals

Local Movers with a real care factor
Experienced furniture removalists
Voted 'Best Removalist' by many Brisbane locals
Great hourly rate for local moves
Servicing all Brisbane suburbs Northside and Southside
Looking for a great Brisbane removalist? Look no further. We know our way around this fast-growing city. Based in the suburbs of Brisbane, Brisk Transport will cover all your local moving needs at ideal prices. Your valuable furniture and goods are in good hands with us. We have an excellent team consisting of professional and experienced movers. Being family-owned and operated, we have a strong commitment to quality in the services we provide. Our good name in the Brisbane removals industry is important to us so we make sure our customers are happy with our service. Throw your moving burdens on us. Let us do the heavy work for you.
In addition to furniture removal, we also provide quick door to door courier services for your urgent mail and other packages. Everything is kept private and confidential.
With a door to door pricing structure within Brisbane* ("Certain areas are not eligible for door to door pricing, please call for a tailored quote for your situation") you can avoid rip off merchants who keep adding hidden costs and only pay for the time you use with us. No Depot-to-Depot charge, no fuel levy and just quarter hour increments after the first two hours!
Haven't had time to finish packing? We can help you pack too! Let us know what you need. We sell boxes, tape, packing paper, and other things that will make your move much easier. You can observe and converse with our staff and learn some helpful hints from them about moving.
If you do a search for 'removalists Brisbane' reviews, you'll see Brisk Transport have the best reputation. Read our other clients' reviews and see what they have to say about our outstanding Brisbane moving company. We have helped many on the road to a stress free move. Book your move with us and see for yourself what others have got to say about our Brisbane removalists.
Door-to-Door Pricing
No Hidden Costs
Quality Staff and Work
Rave Reviews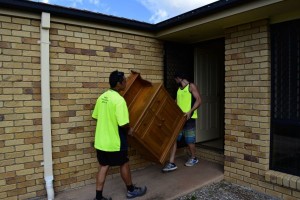 Why choose us over other Brisbane local movers?
Your precious goods will be cushioned by extra thick moving blankets to make sure they are in mint condition when they reach their destination. No surprise scratches or breakages to worry about.
Our company does local door to door pricing which means there is no need for you to worry about depot charges. There are no added charges for fuel tax. You will be informed of all that you are paying for. After two hours at fixed pricing, we only use 15-minute segments for charging.
For each move, we usually use two strong staff movers who will do the whole move. Your residence or office will not be crowded with unnecessary people. There will be no one tripping over another.
Our staff have no less than three years of experience. No job is too big or too difficult for them. They've got the muscles and the know-how to protect your precious goods. Nothing is crammed in haphazardly. All items will be organised and placed in the transport vehicles with the utmost care.
Large items or small, few or many, we move it all. We use moving vehicles that come in a variety of sizes for whatever fits your needs. The interior of the vehicles even have extra padded walls for maximum protection of your possessions.
During the move, good communication is important. We have staff on call that will keep you up to date on where your items are. They are trained and equipped to be able to contact clients thirty minutes before their items arrive at their destination.
All vehicles are equipped with GPS tracking so you know where your items are at any given time. No need to worry about losing your stuff or your stuff ending up at the wrong location. Our monitoring system ensures that all transit goes as planned and makes sure everything is on time.
All charges include toll fees and credit card fees. There will be no extra charges that you are not aware of. This means you don't have to sweat about hidden fees and you can fully focus on your relocation.
Brisk Transport
Head Office
484 Bilsen Road
,
Geebung
QLD
4034
Australia
1300427475
theteam@brisktransport.com.au
,
Visit us on Google+