5 out of 5, reviewed on Apr 03, 2016

"RIGHT" from the start!"


5 out of 5, reviewed on Mar 18, 2016

"Best Mover Ever"


5 out of 5, reviewed on Feb 05, 2016

"Good, reliable removal company"


5 out of 5, reviewed on Jan 20, 2016

"Prompt, professional and friendly"

Read the full reviews
Professional Interstate Removalists
Long distance relocation can be a real drag. That is why we at Brisk Transport also specialize in interstate moving. Our moving services are available not just in Brisbane but also in major cities such as Melbourne, Canberra, and Sydney. Don't let interstate moving depress you. Let our dedicated professional movers help.
Haven't had time to finish packing? We can help you pack too! Let us know what you need. We sell boxes, tape, packing paper, and other things that will make your move much easier. You can observe and converse with our staff and learn some helpful hints from them about moving.
Read our other clients' reviews and see what they have to say about our outstanding moving services. We have helped many on the road to a stress free move. Book your move with us and see for yourself what others have been raving about.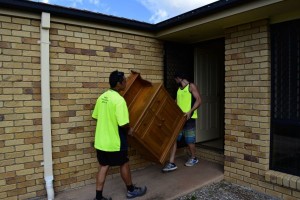 What makes us unique in comparison with other movers?
We track. We keep tabs on all of our vehicles with a GPS monitoring system. We will know where they are every minute of the day. We will let you know half an hour before your furniture or goods reach their destination.
We communicate. When your belongings are entrusted to our care, we make sure you know what's going on and what's going to happen. Our professional office staff will keep in contact with you and the movers over the long-distance move. We constantly review and do our utmost to improve the quality of our service. We will listen to your concerns and evaluate your relocation needs. We like to get feedback from our clients to make sure they are happy with our service.
We are a family-run business. We will look after your material possessions just as if they were our own. We are not your typical run-of-the-mill type movers. We will not treat you like another number. We show care and concern for our employees, making sure they are trained properly and are willing to have the same dedication and focus when serving each and every client.
We're uncomplicated. We use the same people to move you out of your former location and move you into your new one. We will not have different people waiting for you on the other side. No fuss and no hassle. We usually use a capable two-person team for the dirty work of heavy lifting. This makes communicating with you and the office staff easier. We find it more efficient and contributes to less confusion at the moving sites.
We provide the best protection. Besides cost, the usual concern of clients is the care of their property during relocation. It's very disappointing for anyone to find broken or damaged furniture when arriving at the final destination. There is no need to worry about that with Brisk Transport. When we prepare your belongings for the move, we cover them with extra-thick transport blankets to absorb the bumps in the road. Your property will be properly placed and secured in the vehicles so that they are not jostled around during the move. Not only that, you will be comforted in knowing that our moving vehicles are equipped with extra-padded walls for added security.
We have all the vehicle sizes you need. No job is too big or too small for us. Depending on your furniture load, we will provide the right capacity vehicle for you. They are fitted to suit your needs.
We know the best routes. Going to or from Brisbane, Melbourne, Canberra, or Sydney, we'll get your stuff moved as fast as humanly possible.
We have excellent prices. We offer affordable and competitive rates. Get your free quick and easy quote. Contact us via email or telephone to talk to one our interstate moving agents. They will answer all of your questions regarding interstate removals. Our knowledgeable experts will take the time to supply you with a very precise estimate, and they are keen to help you to both schedule and plan the logistics of your move.
We have the materials your need. You can purchase the correct boxes, bins, plastic bags, and other materials from us to help you have the right tools for moving. There is a wide range of packing supplies available at your disposal to get you packed properly.
We offer to pack for you. We know you're busy, so keep your daily schedule uninterrupted by letting us pack for you at a reasonable price. No need to get your hands dirty.